Memory Foam - Sleep Innovation
The Only
Multi Possition Pillow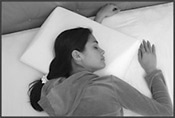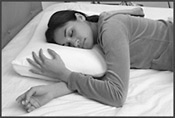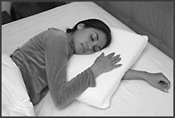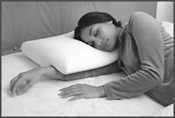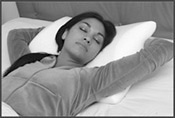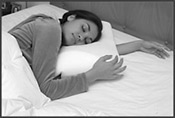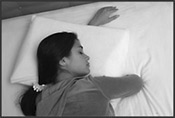 Visco-Elastic / Memory Foam Pillow
The Better Sleep Pillow™ is a contoured orthopedic neck pillow made of TEMPUR-PEDIC®-like Memory Foam. Memory Foam is recommended by over 25,000 medical professionals world-wide for its great properties. Originally developed by NASA researchers for the Space program*, visco-elastic foam (Memory Foam) was designed to increase the comfort of astronauts during long flights. It's simple, the more cells, the more luxurious and soft. Better Sleep Pillows is now using the most premier quality of memory foam on the market today: Super high density: Third generation (5.8 lb)urethane memory foam that contains no smell. Why? This to provided the ultra comfort and so they last a life time for our customer.
• TOTALLY ADAPTIVE. When you lie down on this amazing material, the heat and pressure sensitive foam reacts to your body's weight and temperature, so that it molds to your exact body shape. This means that whether you sleep
on your back, stomach, or side, your weight is evenly distributed and your spine remains in a neutral position.
• NEARLY INDESTRUCTIBLE. Memory Foam never breaks down or compresses, and always returns to its original shape. With regular mattresses and pillows, resiliency is lost after only a few years of use. Mattresses and pillows constructed of fire-retardant Memory Foam perform perfectly and consistently for years.
• TENSION RELIEVING. A sagging or distorted sleep surface often promotes an unnatural spine alignment. To compensate, your muscles -- generally in the lower back area -- will tense up trying to restore a more natural positioning of the spine. It is this muscle tension that builds up over the sleep period, producing the morning discomfort and pain in the lower back area. Memory Foam technology naturally and effectively redistributes body weight, reducing skin pressures by 50%, greatly improving circulation, reducing spinal pressure, and simply making sleeping a dream.
No matter how many times you switch positions during the night, our custom comfort material enables you to wake up rested, relaxed and ready to take on the day.
We know your pillow is essential to the way you sleep, so these Memory Foam pillows are all engineered with one thought in mind: your comfort. With their super-high density 100% visco-elastic foam that molds to your neck and head's contours, Better Sleep Pillows™ provide the ultimate sleeping experience.
For all sleepers including SIDE SLEEPERS. Many individuals prefer to sleep on their sides rather than in a prone or supine position. When a side sleeper's head -- or head and pillow -- rests on his or her arm and shoulder (especially after extended periods of recumbence) pain, numbness and tingling can occur. This discomfort causes frequent position changes which diminishes the quality and quantity of sleep. Chronic restlessness and wakefulness can cause sleep deprivation leading to chronic fatigue and depression.
But when a pillow's front portion is recessed along the entire length of the pillow, in the center and or on opposite ends, the pillow can properly accommodate the neck, head and shoulders. This is the meaning behind the term "sleep innovation."
| | | |
| --- | --- | --- |
| Front View | Bottom View | Side View |
This post was posted in Pillows